Agamemnon Tselikas
Primary tabs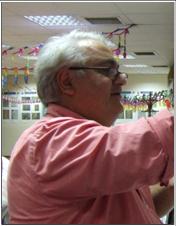 Academic information
Affiliation

National Bank of Greece Cultural Foundation

Position

Director, Center for History and Palaeography

CV

Born in Patras, Greece, in 1949. In 1972 was graduated in Classical Philology from the School of Philosophy of the University of Athens. From 1973 to 1975 he hold a scholarship at the Greek Institute of Byzantine and Post-Byzantine Studies in Venice, where he specialized in Greek and Latin Palaeography, in particular in the Greek manuscripts of the 15th and 16th centuries under the supervision of the Prof. and academician M. Manoussakas. In 1976 he continued the palaeographical studies at the École Pratique in Paris. The years 1977-78 he spend as an associate at the Center for Byzantine Studies of the National Research Foundation in Athens. Since 1980 he has worked for the National Bank of Greece Cultural Foundation in the Center for History and Palaeography. In 1985 was appointed director of the Center. His chief work has been the creation and development of a microfilm-archive of Greek manuscripts from libraries in Greece, the Balkans and the Middle East. Up to the present he has completed 120 palaeographical missions during which 7.500 manuscripts have been microfilmed. In 1984 he organized a special seminar for the Palaeographical Center, which has become a fixture of the Cultural Foundation, in which he teaches Greek Palaeography at three levels. He has published catalogues of manuscripts of Greek Libraries (Patras, Chios, Cephalonia, Leros, Icaria, the Benaki Museum in Athens) and of the Libraries of the Greek Orthodox Patriarchates of Jerusalem and Alexandreia. Also, he teaches Greek Palaeography as invited professor in the Department of Literature of the University of Patras, the Department of Historical Studies of The Ionian University at Corfu and the Department of Cultural Sciences in the University of Bologna - Ravenna in Italy. Since 1999 he is the scientific consultant of the MILITOS editions. Over the last twenty-eight years he has published more than 150 articles on palaeographical studies, and continued the edition of the Archives of The Greek Revolution from the Parliament of Greece (5 volumes). He is member of the Society of The Greek Literature and Historical Archive (ELIA), the Institute of Research of Ancient and Medieval Alexandreia, and the "Arethas" Institute - Mediterranean Research Institute for Palaeography, Bibliology and History of Texts. He has participate in many international congresses and European networks, especially in the "Rinascimento Virtuale" European project, working for the analysis and recovery of palimpsests manuscripts.
For his work in the Patriarchate of Jerusalem was honored with the Cross of Holly Sepulchre.